The Power of the Cloud
All the components of CloudPunch™ are streamlined to integrate time and attendance tracking and export to payroll. The system
also allows you to view and edit punches from your smartphone or internet browser.
Convenient and Easy-to-Use
This plug and play system features intuitive directions to speed employees through the punching process. You have the option to choose between biometric fingerprint, proximity card or PIN punching.
We Do the Heavy Lifting
Set account preferences to automatically calculate employee time, including accruals, paid or unpaid lunch and break time and complex rounding and overtime rules. You get fast and accurate payroll information to keep your business running smooth.
Choose the Plan That Works for You
CloudPunch™ is designed to match your business needs, no matter how many employees you have. Our flexible tiered pricing
options make it truly affordable for businesses of all sizes.
1-5 Employees
6-19 Employees
20-39 Employees
40-99 Employees
100-149 Employees
150+ Employees
All monthly cloud subscription plans are designed for the use of two active time clocks.
Add $10 per month for each additional time clock over two. Plus tax where applicable.
One Device to Rule Them All
Customize CloudPunch™ to record employee time and sync it exactly the way you want it. That way, you can rest assured that
you are allocating resources efficiently and your employees will be fairly compensated.
Different Departments, Different Policies
Your departments have different needs – that's why policies can be customizable for each department.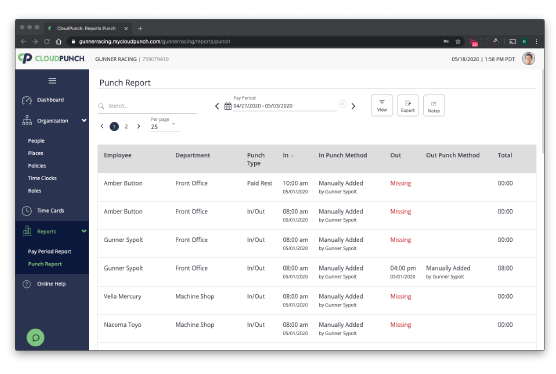 The Information You Need, Clearly Displayed
Generate pay period reports and punch reports filtered by employee, department or punch type to monitor attendance and keep payroll costs under control.
Assign Access Any Way You Want to
CloudPunch™ has three user roles: Administrator, Supervisor or Employee. Administrators have complete access to all account settings, and you can grant individual supervisors and employees permission to view and/or edit particular policies as you see fit.
Missed Punches, No Problem
Access employee time cards grouped by pay period or search an individual employee by name. From there, you can review and edit missed punches.
Select the Categories That Work for You
Add new employees based on site, location, area or department. You can also change the status of an employee to active or archived.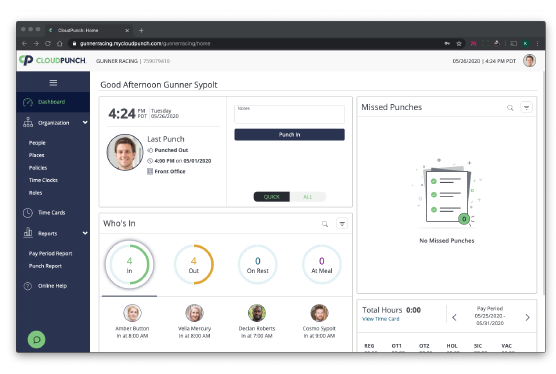 Essential Information at a Glance
Get a quick summary of Who's In/Who's Out, missed punches, and total hours worked for a selected pay period from the convenient Dashboard.
Get the Cloud Without the Clock
Great news! The power of CloudPunch™ isn't reserved for businesses needing a physical time clock. All the features and benefits are readily available to you anywhere you have internet access. Sign up and today and enjoy the benefits of the cloud without the clock!